About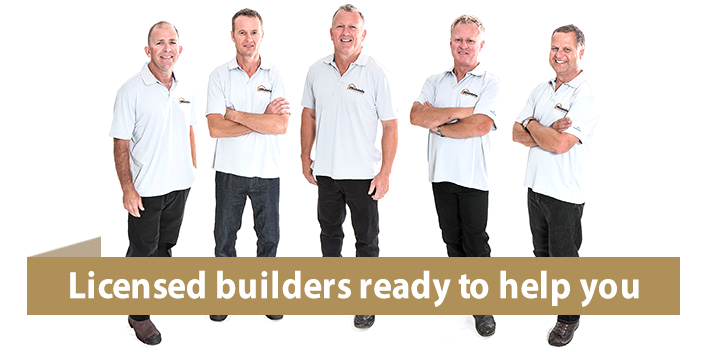 Who we are
The iMaintain team is specialised in home maintenance and been operating for over 5 years. We are experienced owner-operated tradesmen, living and working in your local community.
With building industry experience we guarantee to keep your home in good shape, to maximise its value and maintain your personal asset. All iMaintain work meets the warranties and guarantees required by law. iMaintain has been set up specifically to provide home owners with quality tradesmen services.
What we do
External Repairs
• Repair and replacement of spouting/gutters.
• Maintenance of joinery.
• Tightening of structural fixings.
• Lubrication of hinges and hardware.
• Repair or replacement of insulation.
• Repair or replacement of decking, steps and handrails.
• Replacement of windows and door frames.
Kitchens and bathroom replacement
• Replacement of existing kitchens.
• Upgrade existing bathrooms.
Building and construction
• New bedrooms with ensuite bathrooms.
• Additional bedrooms and living areas.
• New carports and additional garaging.
• Conversion of existing garages to sleep-outs.
• New doors onto new outdoor living areas.
Maintenance Survey
The iMaintain comprehensive Maintenance Survey is a vital asset in understanding the condition of your building and provides you with a detailed overview of its condition and a schedule of maintenance.
The benefits of scheduled maintenance work:
Saves you money by identifying and fixing problems before they get out of control
Makes your home more comfortable and healthy for your family
Protects your home against weather tightness problems
Ensures it is safe and secure to live in
Improves the monetary value of your home
What is included in home maintenance?
All buildings require some degree of maintenance. Maintenance includes everything from regular cleaning to repairs and replacements. It can be a small job like changing a tap washer, or as large as replacing the whole roof and even include additions and alterations so your home meets the growing or changing requirements of your family. iMaintain will provide high quality workmanship throughout.